Wednesday, October 18 2017
Orlando, Fla. —2017 has brought a complete new game for Non- Emergency Medical Transport businesses.
•New brokers
•New competition and
•New political inputs that will shake up markets and businesses across the country.
NEMT companies that can provide efficient, reliable and scalable services will thrive, as will those that can use change to grasp more market share. New entrants can always be an opportunity for other providers to realize that their service could be performed in new ways.
Through 2016 there was a high flow of technology companies entering the NEMT market. Large technology companies like Uber, Lyft, and other start-ups have partnered with providers, state governments and hospital systems to leverage the growing fleets of Transportation Network Companies (TNCs) to provide NEMT service.
Medicaid playing a key role in reshaping NEMT services.
Despite the expansion of NEMT services and of brokerage as the preferred model for delivering NEMT, the benefit has drawn increased scrutiny within Medicaid.
Program integrity lapses have damaged NEMT's reputation. Like other parts of the Medicaid program, NEMT is not free from fraud and abuse. Over the past few years, investigators have uncovered bad conduct by some NEMT drivers and vendors.
Then came the brokerage model, designed to address and mitigate these problems through capitated arrangements that insulated Medicaid budgets from fraud losses and encourage brokers to root out abuses. To address program integrity concerns, Congress could require states to manage the NEMT benefit by contracting with brokers, incentivize states to choose the broker option, or require states that do not use brokers to use utilization management tools commonly used by brokers, such as prior authorization.
NEMT is one of many parts of the Medicaid program that will likely be subject to experimentation in the coming years. A March letter from HHS secretary Tom Price and CMS administrator Seema Verma promises to "empower" states seeking flexibility in any of seven listed areas, one of which is NEMT.
Its importance and benefit to the bottom line has been proven by several studies which noted that missing routine, preventive care can lead to unnecessary costs and hospitalization. Although it is difficult to isolate the impact of transportation on health outcomes, a study conducted by Florida State University concluded that if only 1 percent of the medical trips funded resulted in the avoidance of an emergency department hospital visit, the payback to the State would be 1108 percent, or about $11.08 for each dollar the State invested in its medical transportation program. According to the study, "Overall, the State of Florida invested $372,264,302 in these transportation disadvantaged programs in 2007. These funds generated benefits of $3,172,813,246.31, which is a payback of 835%, or $8.35 per each dollar invested in these programs."
Research also shows that transportation is one of the most common barriers faced by low-income populations in accessing timely and necessary medical care, and NEMT fills this access gap by providing the appropriate and least costly method of transportation. Given the high needs of the Medicaid population and the trend across health insurance toward greater use of non-medical benefits, including NEMT, to improve the efficiency of medical care, we are confident that NEMT will continue to be an important part of Medicaid.
###
Thursday, October 05 2017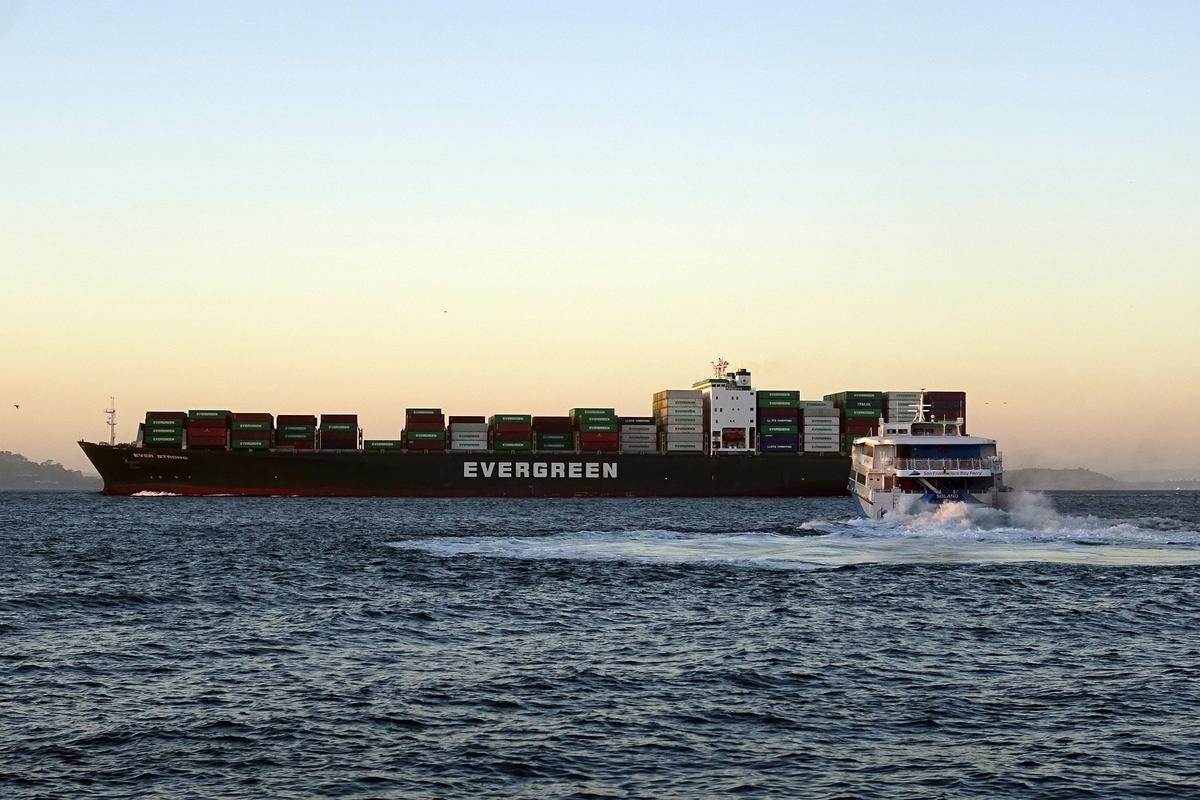 These are 4 good reasons
Orlando, Fla. — Florida is a leading international trade center that excels at getting people, products, and services at high speed virtually anywhere.
1) Florida is home to the third-largest cluster of logistics and distribution establishments in the country, our state's broader wholesale trade, transportation and logistics industry employs more than half a million talented individuals.

2) Our extensive highway and rail networks, multiple high-speed data transmission hubs, 19 commercial airports and a deep shipping port within 90 miles of any business, Florida sets the standard for getting your products and services to market—fast.

3) Home to 20 percent of all U.S. exporters and the second-largest Foreign Trade Zone network in the nation, Florida is a top choice for any company in search of global access and a direct path to rapidly expanding markets in Latin America and the Caribbean.

4) In addition to our overall favorable tax structure, Florida has no property tax on business inventories or goods in transit for up to 180 days.
Most key global shipping lines and airline alliances, (including specialized cargo operators), 3PLs, and VALs have a presence in Florida and most importantly, our state is generating a robust talent base and supply chain that benefits all.

The expansion of the Panama Canal has been a game changer. Opened in 2016, it increases the waterway's capacity to accommodate larger vessels. The canal links the Atlantic and Pacific oceans, allowing ships to avoid sailing around the southern tip of South America, which can add about 5,000 miles to their voyages.
Thanks to these investments, even cargo that starts in Miami, can reach about 60 percent of the U.S. population in no more than four days. Transit times can be even shorter for cargo that begins its journey at any of the state's ports farther north.
Did you know Central Florida is one of the largest auto rental markets in the country? Many of the cars come in new from overseas manufacturers. Automobiles coming through Port Canaveral can be consigned and delivered to dealers in record time, due to the processing facility's location right on the port, which allows processing to be completed before the cars are distributed. In fact, many auto manufacturers can move two or three loads of cars from their ships in one day.
According to Inbound Logisitics, Port Canaveral has begun working with one major auto original equipment manufacturer located in Mexico, and will begin bringing in cars from a plant located in Asia later in 2017.
Port Tampa Bay (PTB) is the state's largest. More than 37 million tons of cargo flow through the port each year, or about one-third of all cargo moving in and out of the state.
And of course, we have talked about this before, e-commerce makes everyone want to be closer to consumers. Both Amazon and Walmart have distribution centers within about 30 miles of Port Tampa Bay. Shippers with cargo headed to Central Florida can save about $670 per container load by using Port Tampa Bay, rather than ports located several hundred miles away, according to PTB research. To attract this business, the port is building a 135,000-square-foot on-dock cold storage facility that's scheduled to open later in 2017.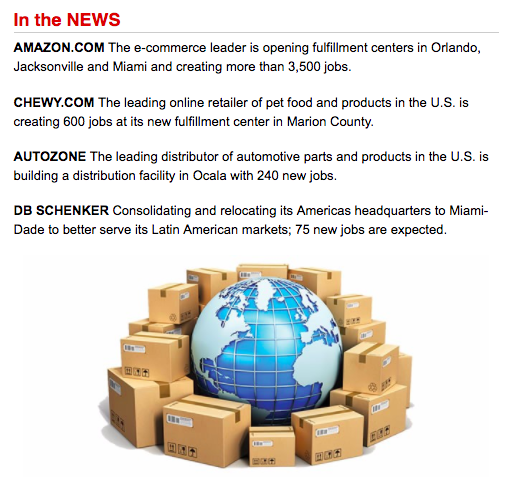 Photo courtesy of Florida Trend.

In conclusion, Florida's many state-of-the-art transportation networks have helped establish a strong and growing logistics sector.