Thursday, November 29 2018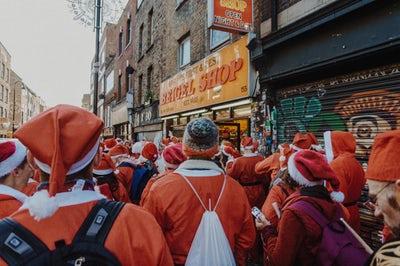 ORLANDO, Fla.—Kids around the country are eagerly expecting their gifts this Holiday Season. In their minds, Santa Claus on his sleigh goes around the world and somehow always ends up at their house and leave their Christmas wishes under the tree. And all those Tonka trucks, ugly sweaters and, electronics bought online have to get delivered to more than 126 million individual homes or apartments in the U.S.
Adults, on the other hand, understand how challenging it is for Santa to complete his mission on time year-after-year. Just the fact of going shopping in super crowded commercial centers is already overwhelming, but making sure to make it before those wishes are out of stock is a killer. Most people are even unaware of the entire process behind it, even when you buy through the most convenient services like Amazon. Note they would even bring your tree to your doorstep if you want. But free shipping is never free. That's something small businesses know all too well, still, some small businesses are making shipping cheaper to lure in customers.
In an era when retail continues to undergo a massive transformation, there's no letup in shoppers demand for convenient, quick and simple. The National Retail Federation forecasts online shopping, for instance, will increase 11 to 15 percent this year, with more than $140 billion in non-store sales expected this holiday alone.
According to a news report from Forbes, on average roughly every fifth present opened this Christmas will have come to you, at least partway, by air. 'In the vast majority of cases, it continues to be far more efficient and cost-effective for companies to stock their brick-and-mortar stores using relatively old-fashioned 18-wheel trucks. That, in part, helps explain the continued – and rapid - growth of the trucking industry in recent years, and the intense stress on trucking companies to hire more drivers and put more trucks on the road. But when it comes to fulfilling 2 billion or more individual orders placed directly with manufacturers or online retailers via the internet, each requiring delivery to a distinctly different doorstep somewhere, nothing is as efficient and cost-effective as small-package delivery via air. The growth in demand for delivery – both by air and by ground services – of holiday gifts has become so profound in recent years that all of the big shippers now dismiss the notion of there being a "busiest" shipping day before Christmas as a quaint old notion."
The three logistics and delivery giants have strategies to deal with the expected increased volume in online shopping this year. UPS leased and chartered planes fleet always reaches its annual zenith in December. FedEx, in the other hand, says it expects every Monday in December except December 31 to rank at or above its current busiest day ever, Dec. 10 of last year, when it took in more than 19 million packages. Amazon is hiring third parties to supply the aircraft and in some cases the crew, the maintenance, and operations expertise and even the insurance that covers its planes.